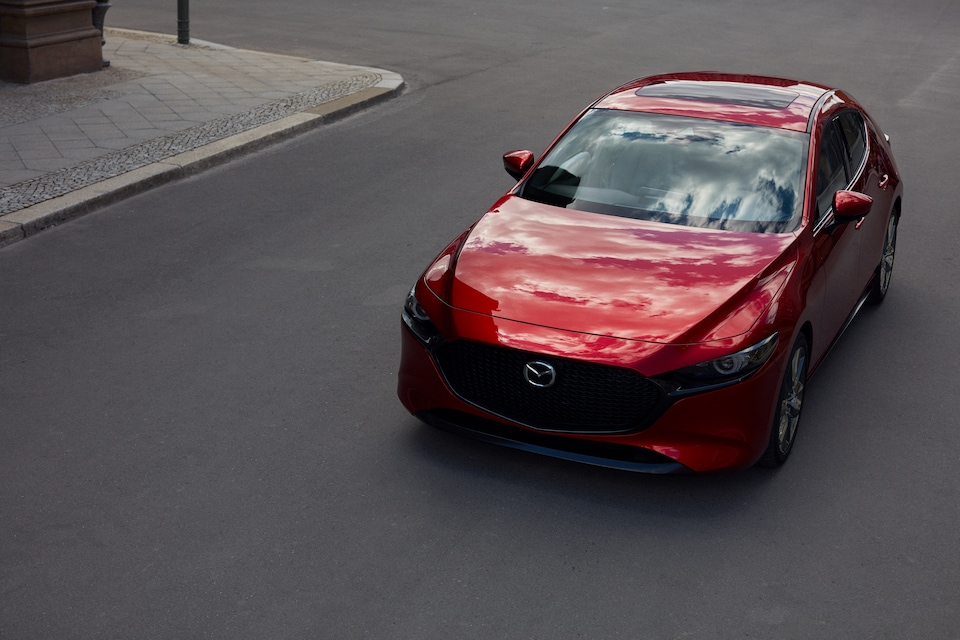 ?
If you're near Morristown, Lodi, or Butler, and you're on the lookout for your next sedan or hatchback, consider the 2020 Mazda3 coming soon to Wayne Mazda.
The much anticipated 2020 Mazda3 will look different and drive better than any other car in its family thanks to a redesign of both the exterior and fuel consumption method.
Before you see the new Mazda3 in our lot, take a look at its new features, and see which ones speak to you:
Exterior Re-Design
Like with any Mazda vehicle, design is at the heart of everything. The new Mazda3 is certainly no exception and each detail on the car has been painstakingly thought of through Mazda's design method: Kodo (Soul of Motion).
The new Mazda3 sedan will feature angled lines and a bold front grille. It will be able to comfortably seat up to 5 passengers and has a spacious cargo area despite featuring an exaggeratedly smooth and shallow build.
For more versatility, some drivers may prefer the new Mazda3 hatchback whose deign features a rounded face and sloping rear for improved aerodynamics. The hatchback will also allow drivers more cargo flexibility as the back seats can be lowered.
Interior, Engine, and Other Updates
Perhaps the most notable change for the upcoming Mazda3, is the addition of the new Skyactiv-X compression-ignition engine. This fuel-lean design will be able to save drivers money and get them further on the road.
The cabin will now also include an 8.8-inch mounted display, head-up driving display, an available Bose audio system and a suite of on-board safety features like smart brake support, front cross traffic alerts, and driver monitoring.
Availability at Wayne Mazda
The new Mazda3 isn't set to be released until the spring so you will not see it in our inventory before then. If you have any model-specific questions, however, or you'd like to find out when we carry it, please call today and we'd be happy to assist you.